Partnership, Resilience, and Innovation
The GP Capital Solutions strategy at Blue Owl seeks to achieve superior risk-adjusted returns by building a diversified portfolio of minority equity stakes in institutionalized private capital firms spanning multiple strategies, geographies, and asset classes. While the last twelve months have challenged all markets, including private markets, we believe our funds' permanent capital and our focus on acquiring stakes in large managers have provided significant downside protection and cash yield during a rather turbulent year. Looking ahead to 2023, we expect the diversification within our portfolios to continue paying dividends for our funds' investors, both literally and figuratively.
Highlights from our 2023 GP Capital Solutions Outlook Webcast
Blue Owl's five investment themes for private capital solutions and GP stakes in 2023
1. Continued and Growing Allocations to Private Markets
Private market assets under management (AUM) have almost tripled over the last decade and we expect this growth to continue, although likely at a lower rate. Private capital AUM has grown from $2.7 trillion in 2010 to approximately $8.9 trillion in 2021 and is expected to reach $17.8 trillion by 2026, according to Preqin.1 We believe private market funds have become an increasingly indispensable component of institutional investor portfolios due to their potential for attractive risk-adjusted returns, historical outperformance versus other asset classes, and diversification.
Despite significant external factors, such as the global financial crisis and the COVID-19 pandemic, median net internal rates of return (IRR) since 2008 have remained above 10%, with top quartile funds exceeding 15%.1 This indicates that strong returns may be achievable across different market environments. Of particular note for today's environment: funds deployed during or immediately following economic crises have historically produced above-average returns.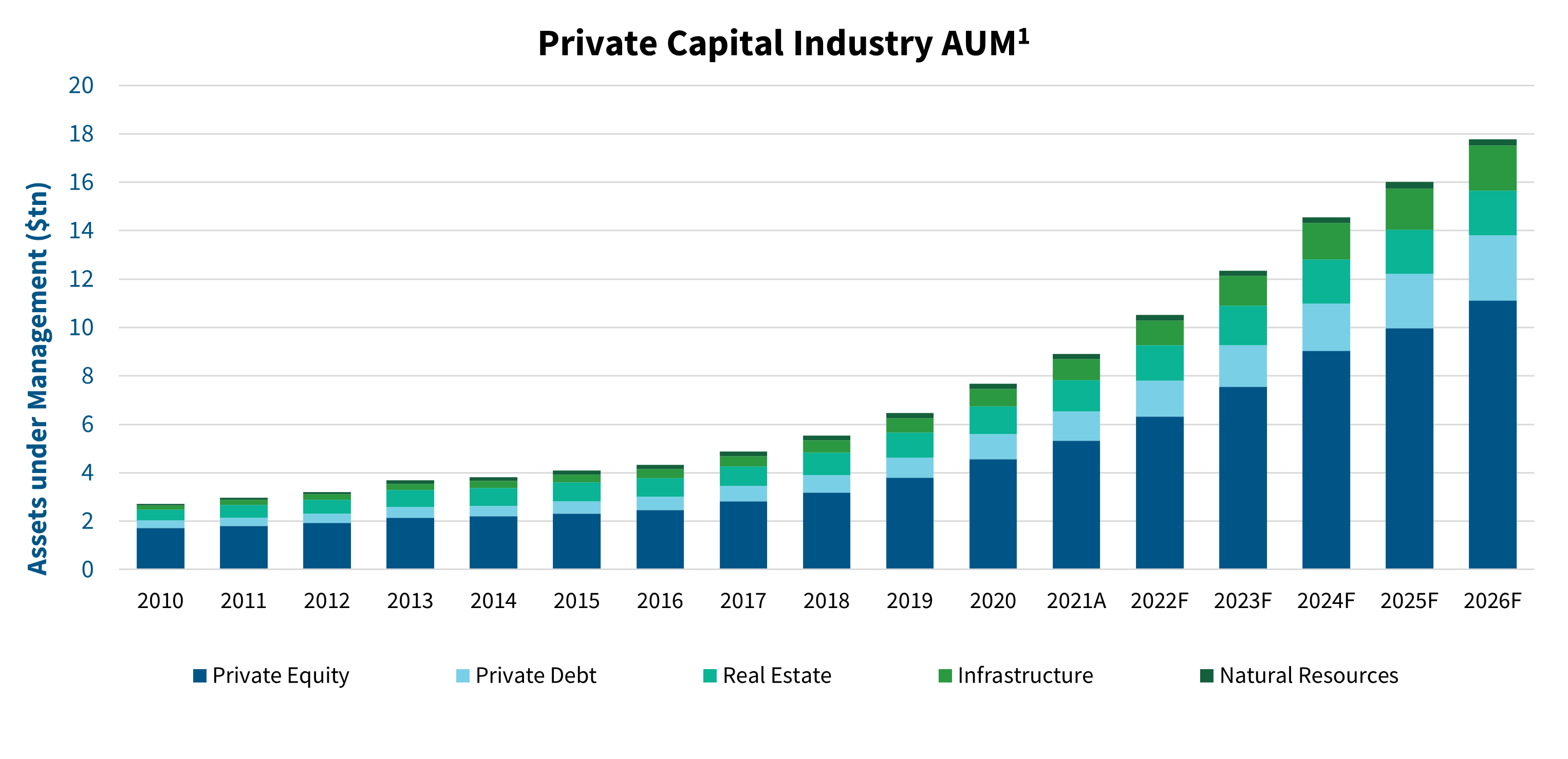 2. Individual Investors turning to Private Capital
Another driver of private market growth is increased individual investor participation in private equity via new structures and delivery models. Per Preqin, individual investors allocate an average of ~5% of their portfolios to alternative investments, as compared to 27% for pensions and 29% for endowments.2 Given the massive size of the potential market, under-allocated individual investors offer a critical and largely untapped growth avenue for private market managers.
3. Big Firms Getting Bigger
In the private capital industry, mega-funds (i.e., $1+ billion) have accounted for 73.2% of the capital raised through Q3 2022.3 Larger funds have continued to grow, due in some degree to "brand recognition" and years of relationship building with institutional investors. First-time funds, on the other hand, have often struggled in a competitive fundraising market. Following the COVID-19 pandemic, market dynamics have shifted in private market fundraising. While the average length of individual fundraises has increased over the last few years due to the competitive capital raising environment, more firms have exceeded their final close targets. As of Q3 2022, 81.5% of private equity funds have been larger than their predecessors, largely attributable to firms' relationship building with institutional investors.3 Despite challenges in the market in 2022, global private equity fundraising maintained its pace through the third quarter with $105.3 billion committed across 131 vehicles.3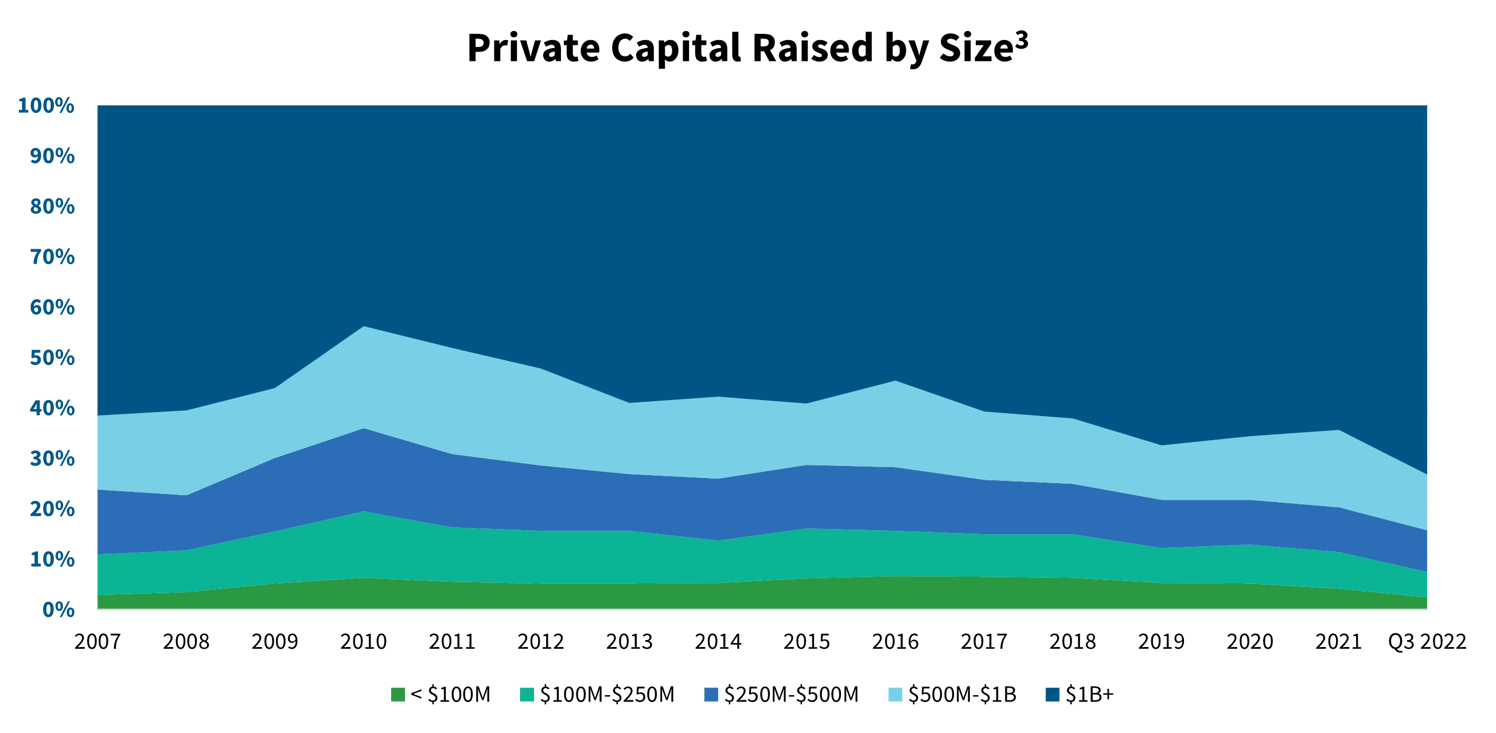 As the private equity industry continues to institutionalize, a disproportionate amount of new capital has flowed to the largest, most diversified private equity platforms. We believe these platforms are attractive to the largest institutional investors for two primary reasons—strong returns, and a broad suite of products through which investors can deploy significant capital. Investors have focused on both consolidating and deepening their relationships with investment managers in order to facilitate easier portfolio management and gain co-investment opportunities. Since 2012, private capital fundraising has continually increased while the number of funds has plateaued, reflecting consolidation in the industry.3 The proportion of capital that has flowed to the largest buyout managers (AUM of $1bn+) has generally continued to increase since the financial crisis. According to an investor survey conducted by Preqin, approximately 82% of investors planned to re-up with existing relationships in 2022.1 We expect this trend to persist into 2023: capital inflows should remain concentrated in fewer funds, further strengthening large incumbent firms.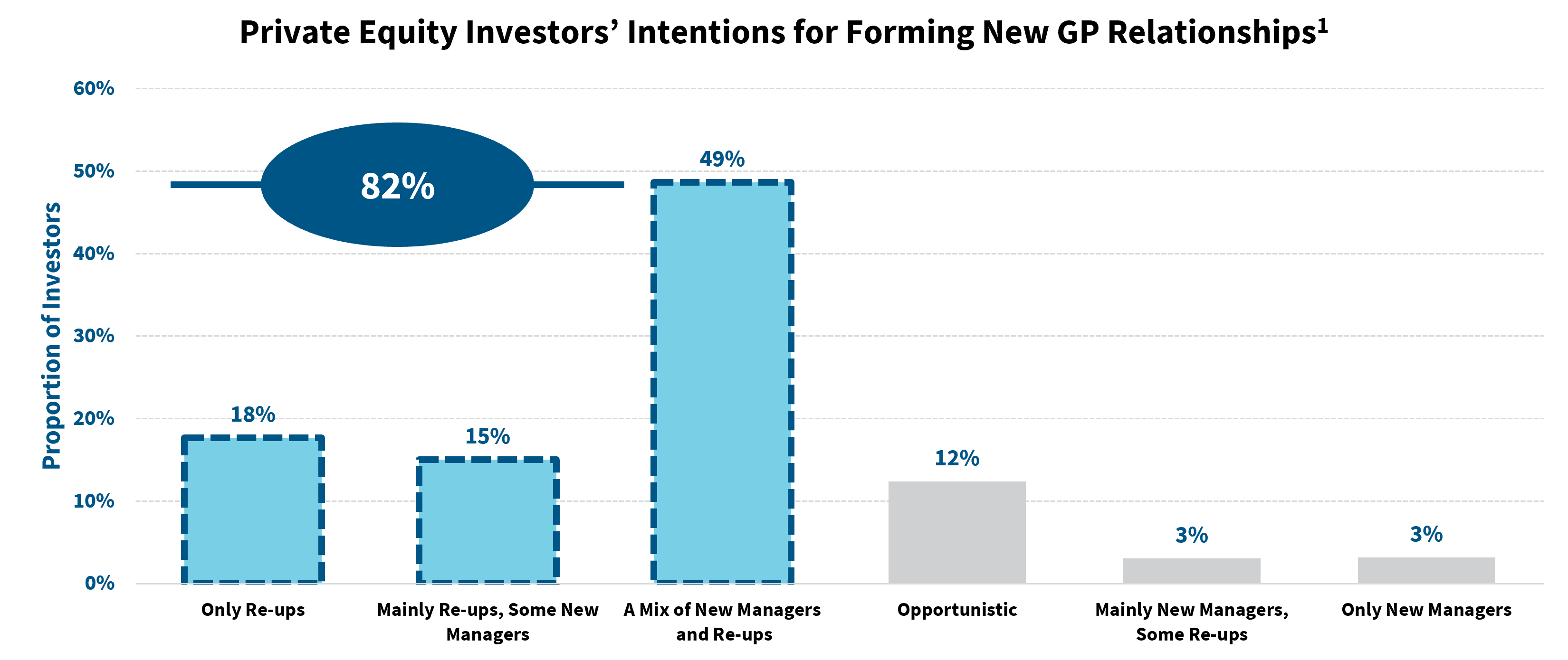 5. Large Addressable GP Stakes Market
We believe robust capital flows will continue to drive minority stake sales in the new year. Private capital managers typically sell a minority stake in order to raise primary balance sheet capital, or to provide liquidity for existing equity holders. The demand for primary capital is driven by larger firms launching new products, upsizing their GP commitments, or acquiring new businesses for their platform—all activities that have accelerated in recent years. Secondary capital is generally used for succession planning, equitizing the next generation at a firm, or more generally reorganizing a firm's capital structure to reflect its evolution over time. In a market with very few buyers, we expect to remain more constrained by available capital than by deal flow.
In conclusion...
Our mission at Blue Owl is to be the partner of choice for large private market firms seeking a minority equity partner. The total addressable market continues to grow with the overall industry. We have completed over 75 equity and debt transactions since inception and we believe our market share of equity transactions larger than $600 million has been over 85%. A range of investors can benefit from owning stakes in large, institutionalized private equity managers, and many have partnered with us to do so. We continue to focus on being a value-add partner with some of the leading private capital managers in the world, and on being a reliable partner and resource to investors.
We wish you a happy and healthy 2023 and remain, as always, at your disposal.

Michael Rees
Co-founder, Co-President of Blue Owl Capital
Founder, Head of Dyal

Sean Ward
Senior Managing Director, Blue Owl Capital
If you are a Financial Advisor looking for more information,

get in touch with a member of our sales team.
The past performance is not a guarantee of future results. Indices listed do not represent benchmarks for the funds but allow for comparison of a fund's performance to an Index. An investor cannot invest directly in an index. Index performance does not reflect fees and expenses. The views expressed are Owl Rock's views and may change without notice as market and other conditions change.
All investments are subject to risk, including the loss of principal amount invested. The projection of existing and proposed funds sponsored by Blue Owl, including the Owl Rock Funds, the Dyal Funds, and the Oak Street Funds (collectively the "Blue Owl Funds") are hypothetical and have been provided for illustrative purposes only. Accordingly, no assumptions or comparisons should be based upon these projections. Furthermore, in no circumstances should these projections be regarded as a representation, warranty, or prediction that a Blue Owl fund will achieve or is likely to achieve any particular result or that an investor will be able to avoid losses, including total loss of their investment. Inherent in any investment is the potential for loss.
1. Source: 2022 Preqin Global Private Equity Report
2. Source: Preqin Special Report –The Future of Alternatives 2025, December 2022.
3. Source: Pitch Book's Global Q3 2022 Private Markets Fundraising Report, based on private equity funds that reported fundraising in PitchBook.
Important Information
Unless otherwise indicated, the Report Date referenced herein is September 30, 2022.
Past performance is not a guide to future results and is not indicative of expected realized returns.
Assets Under Management ("AUM") refers to the assets that we manage and are generally equal to the sum of (i) net asset value ("NAV"); (ii) drawn and undrawn debt; and (iii) uncalled capital commitments.
This presentation and the information contained in this presentation may not be reproduced or distributed to persons other than the recipient without express permission from Blue Owl.
The views expressed and, except as otherwise indicated, the information provided are as of the report date and are subject to change, update, revision, verification, and amendment, materially or otherwise, without notice, as market or other conditions change. Since these conditions can change frequently, there can be no assurance that the trends described herein will continue or that any forecasts are accurate. In addition, certain of the statements contained in this presentation may be statements of future expectations and other forward-looking statements that are based on the current views and assumptions of Blue Owl and involve known and unknown risks and uncertainties (including those discussed below) that could cause actual results, performance, or events to differ materially from those expressed or implied in such statements. These statements may be forward-looking by reason of context or identified by words such as "may, will, should, expects, plans, intends, anticipates, believes, estimates, predicts, potential or continue" and other similar expressions. Neither Blue Owl, its affiliates, nor any of Blue Owl's or its affiliates' respective advisers, members, directors, officers, partners, agents, representatives or employees or any other person (collectively the "Blue Owl Entities") is under any obligation to update or keep current the information contained in this document.
This presentation contains information from third party sources which Blue Owl has not verified. No representation or warranty, express or implied, is given by or on behalf of the Blue Owl Entities as to the accuracy, fairness, correctness or completeness of the information or opinions contained in this presentation and no liability whatsoever (in negligence or otherwise) is accepted by the Blue Owl Entities for any loss howsoever arising, directly or indirectly, from any use of this presentation or its contents, or otherwise arising in connection therewith.
All investments are subject to risk, including the loss of the principal amount invested. These risks may include limited operating history, uncertain distributions, inconsistent valuation of the portfolio, changing interest rates, leveraging of assets, reliance on the investment advisor, potential conflicts of interest, payment of substantial fees to the investment advisor and the dealer manager, potential illiquidity, and liquidation at more or less than the original amount invested. Diversification will not guarantee profitability or protection against loss. Performance may be volatile, and the NAV may fluctuate.
Performance Information: Where performance returns have been included in this presentation, Blue Owl has included herein important information relating to the calculation of these returns as well as other pertinent performance related definitions.
This presentation is for informational purposes only and is not an offer or a solicitation to sell or subscribe for any fund and does not constitute investment, legal, regulatory, business, tax, financial, accounting, or other advice or a recommendation regarding any securities of Blue Owl, of any fund or vehicle managed by Blue Owl, or of any other issuer of securities. Only a definitive offering document can make such an offer.
Copyright© Blue Owl Capital Inc. 2023. All rights reserved. This presentation is proprietary and may not to be reproduced, transferred, or distributed in any form without prior written permission from Blue Owl. It is delivered on an "as is" basis without warranty or liability By accepting the information, you agree to abide by all applicable copyright and other laws, as well as any additional copyright notices or restrictions contained in the information.
5426891.3